Discover Gold, Red, and Orange in Placerville
Autumn is the time of year when the skies are bright blue, the air is crisp, and anything seems possible. Take a few little day trips to discover gold, red, and orange in unexpected places.
Gold
You thought we were talking about mining for gold and making wedding rings, didn't you? Nope, gold is all around you in Autumn. Take a drive on Highway 50 to El Dorado National Forest for leaf-peeping season to discover gold leaves on all the trees. Fish for golden shiners at Ice House Reservoir and bask in the golden sunshine sent from Heaven.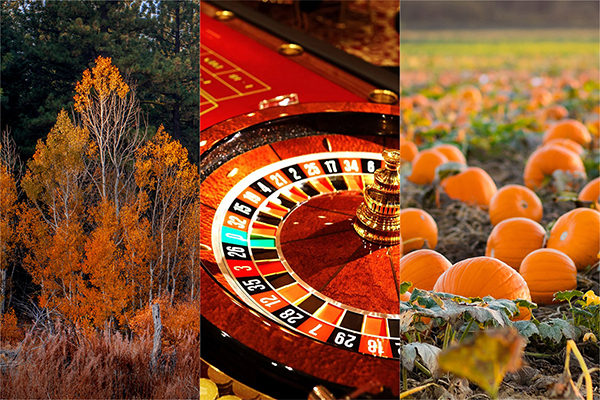 Red
You could win big and discover gold at Red Hawk Casino too. The trees are turning brilliant Autumn colors everywhere in Northern California right now. Take the complimentary shuttle bus from Placerville RV Resort to the beautiful hilltop home of Red Hawk Casino and see a riot of gold and red foliage as you travel along Highway 50 to get there. You might discover gold in more ways than one on this adventure.
Orange
Pumpkins are orange! Everyone has heard of Pick 'em Yourself apples, peaches, and strawberries. But pumpkins? C'mon…those things are big! Nevertheless, six farms in Apple Hill have 'you pick' pumpkin experiences this October
Sloan Winters Mountain Orchard and Garden
24 Carrot Farm
O'Halloran's Apple Trail Ranch
Goodness Orchard (call for appointment)
Delfino Corn Maze and UPick Pumpkins
Harris Family Farm
Discover Gold Delicious Apples, big red barns, and gigantic orange pumpkins when you feast your eyes on the gorgeous Autumn colors in Apple Hill Country. Take home all the orange pumpkins you can carry and turn them into pies and Jack-o-Lanterns. Book your Autumn stay at Placerville RV Resort & Campground to discover gold, red, and orange hues on every tree in the entire El Dorado area.
Dive into our latest newsletter for updates on seasonal adventures and specials awaiting you.
https://mailchi.mp/d3d09fee32a1/horse-day-crab-gala-smores-with-santa-and-festival-of-lights