Fishing and Boating at Folsom Lake State Recreation Area
Midway between Sacramento and your cozy campsite at Placerville RV Resort lie the sparkling clear blue waters of Folsom Lake, a reservoir on the American River. This man-made lake in the Sierra Nevada foothills is fully stocked with rainbow trout, catfish, largemouth & smallmouth bass, perch, and Kokanee salmon. So bring your family and your boat for a day of fishing, water sports, and sunshine. Your doggie is invited too!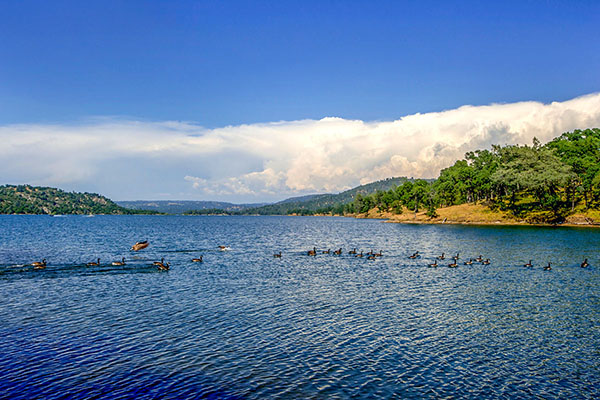 More Adventures at Folsom Lake
Beautiful Folsom Lake is surrounded by a vast State Recreation Area and is one of the most visited parks in California. Hike the hills around the lake to take pictures of gorgeous mountain scenery, and people biking, waterskiing and riding jet skis and horses. This outdoor paradise and is only about 16 miles away via US 50 West.
History and Mystery
Good news for fishermen and outdoor enthusiasts! The torrential rainstorms from October 2022 through March 2023 increased the water levels in lakes, rivers, and underground aquifers by more than 20 inches, and that includes Folsom Lake. The little town of Mormon Island is once more hidden by the water, no more planes have popped up, and fishing and water sports are better than ever.
Placerville RV Resort and Campground – Your Next Adventure Awaits
You'll find excitement and breathtaking vistas in the foothills of the Sierra Nevada Range. Hike through woods and nature trails, play disc golf, visit historic homes and towns, watch birds, go to the Marshall Gold Discovery Park, and discover the peaceful paradise that is Folsom Lake State Recreation Area. It just takes a few days of family fun to make memories that last forever. Book your stay at Placerville RV Resort and Campground and cherish your time together always.