Lights! Camera! Action! Movies Made in El Dorado County
The stunning scenery in Placerville and in surrounding El Dorado County make it the ideal location to film Hollywood blockbusters and projects destined for the small screen. Look for rolling hills, pine forests, snowy peaks, and historical buildings in your favorite flick. Chances are good that film was made right here and you can take a self-guided tour to see the actual locale. Click the link to get your movie map. Then go back to your RV and watch that movie again – we have WiFi.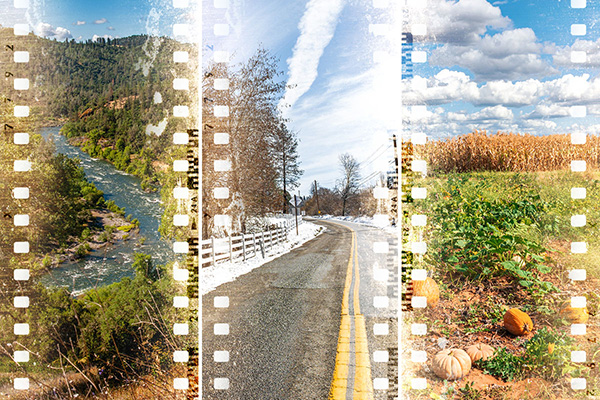 Some Movies Made in El Dorado County
Indiana Jones and the Temple of Doom – Who could forget this one? Everybody's all-time favorite since it was made in 1984. Harrison Ford stars in this action/adventure set on the South Fork of the American River in Placerville.
The Horse Whisperer – Robert Redford directs and stars in a Western romance/drama filmed in the El Dorado National Forest in 1999.
City of Angels – Nicolas Cage and Meg Ryan star in the 1999 fantasy/romance set in Emerald Bay.
Memoirs of a Geisha – A 2005 drama/romance set on the South Fork of the American River and Cronin Ranch, starring Michelle Yeoh.
The Bodyguard – The irresistible chemistry of Whitney Houston and Kevin Costner in the drama/romance/music blockbuster filmed in 1992 on the South Shore of Lake Tahoe.
Too many more to name them all. Click the movie map to see the entire list of movies made in El Dorado County! You'll be watching movies for days!
Make Your Own Movie
Bring your cellphone and press 'video' to star in your own movies made in El Dorado County.
Want to make your video someplace different? Check out the many parks, golf courses, museums, historic gold rush sites, and even more
outdoor locations for the perfect background for your videos and selfies.
You're a Star at Placerville RV Resort
We will treat you like the star you are! Enjoy swimming, fishing, movies, mini-golf, and more. Just minutes away from historic gold-rush locations, wineries, casinos, and incredible mountain scenery, Placerville RV Resort & Campground is the place to make movies in El Dorado County and memories with your loved ones.
Choose a cabin, tent camping, or a spacious RV site. We're big-rig friendly too!